Great news! Without even knowing, we were featured on Huffington Post's back to school list as the #1 backpack choice for girls! Read the article below or see link here
On your mark, get set, go! The mad dash to purchase that laundry list of "Back to School" supplies is here. While certain items like pencils, notebooks and paper are a no brainer, your child's backpack is something that should never be bought on a whim.
Unlike clothing and shoes, your child will not outgrow their backpack during the school year, or need to swap it out when the weather changes. It's the one constant they will proudly wear everyday to school. So why not make it something special?
Always remember that a backpack is way more than just a vessel to carry your kid's books to school. It's an extension of their personality. A representation of who your child is to their peers. Maybe your kid loves kittens? Maybe it's a certain cartoon character? Maybe they're obsessed with pink? Whatever floats their boat. In the end, it's all about building confidence and self-esteem…all while getting their homework home in one piece. – Jill Topol
Top Boys Backpacks
1. Crewcuts – Max the Monster Backpack $59.50 www.jcrew.com
2. Fred Perry – Plaid Signature Backpack $95.00 www.asos.com
3. Nintendo – Large Controller Backpack $29.99 www.target.com
4. Sprayground – Eyenstein Backpack $60.00 www.sprayground.com
5. MadPax – Heavy Metal Full Pack in Moonwalk Silver $65.00 www.madpax.com
6. Vans – Eley Kishimoto Old Skool II Backpack $42.00 www.vans.com
7. Herschel – Classic Backpack in Navy Portal $39.99 www.herschelsupply.com
8. Mojo – Burger Deluxe Backpack $48.00 www.mojobackpacks.com
9. Jansport – Superbreak Backpack in Multi Mixtapes $36.00 www.jansport.com
10. Star Wars – Grey Millennium Falcon 3D Backpack $31.99 www.target.com
11. Zara – Giraffe Detail Backpack $29.90 www.zara.com
12. Paul Smith Junior – Dinosaur Backpack $262.00 www.luisaviaroma.com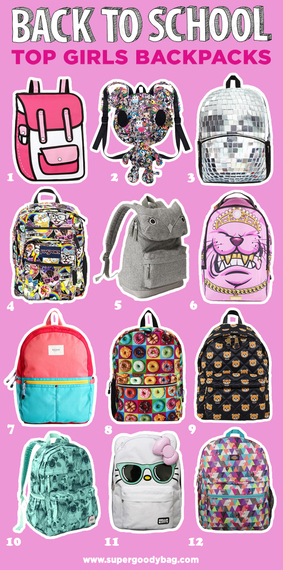 Top Girls Backpacks
1. 2D Bags – Pink 2D Backpack $29.99 www.2dbags.co
2. Tokidoki for LeSportsac – Palette Backpack $138.00 www.lesportsac.com
3. Mojo – Studio Disco Backpack $48.00 www.mojobackpacks.com
4. Jansport – Big Student Backpack in Hairball $45.99 www.kohls.com
5. Gap Kids – Owl Backpack $39.95 www.gap.com
6. Sprayground – Kitten Grillz X Cupcake Mafia $65.00 www.sprayground.com
7. State – Kane Backpack in turquoise/peach $55.00 www.statebags.com
8. Mojo – Doughnuts Backpack $48.00 www.mojobackpacks.com
9. Moschino – Quilted Bear Printed Backpack $725.00 www.luisaviaroma.com
10. Gap – Printed Senior Backpack in Mint Puppies $44.95 www.gap.com
11. Hello Kitty – Mint Sunglasses Backpack $40.00 www.loungefly.com
12. Dickies – Patchwork Backpack in Soft Turquoise $19.99 www.target.com